Our D&I Committee is led by an elected Leadership Committee. Through the full committee and its four sub-committees—Education, Hiring, Mentoring and Standards—the D&I Committee provides Wolfe's employees as well as the Executive and Operating Committees with on-going guidance and input to make sure the firm continues to transparently focus and improve on its performance of hiring, educating, mentoring, and holding itself to increasingly higher and evolving standards of diversity.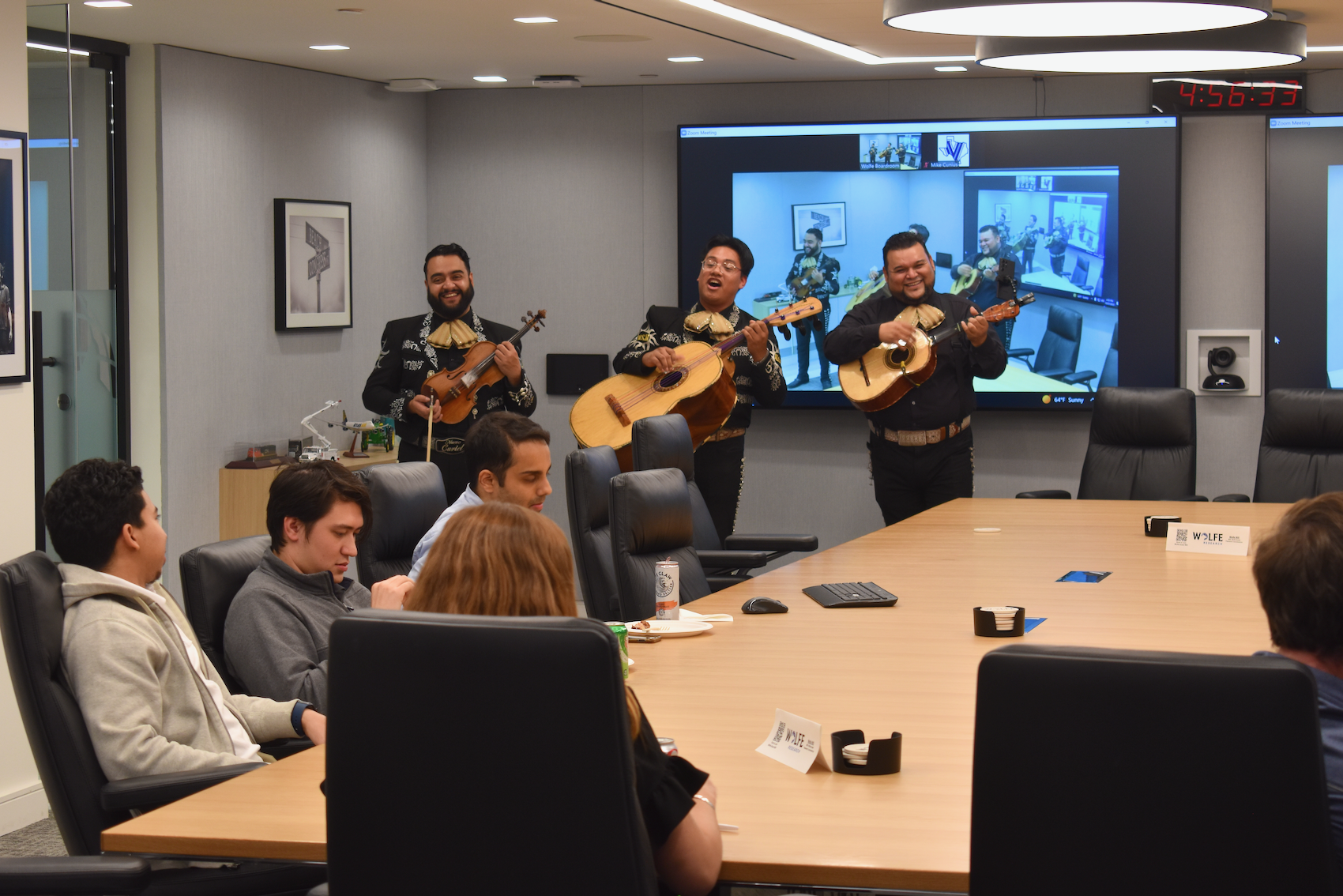 In October we hosted a celebration in honor of Hispanic Heritage Month. Wolfe's celebration included a live Mariachi Band and appetizers inspired from Dominican cuisine. Each year, Americans observe National Hispanic Heritage Month from September 15 to October 15, by celebrating the histories, cultures and contributions of American citizens whose ancestors came from Spain, the Caribbean and Central and South America. The observation started in 1968 as Hispanic Heritage Week under President Lyndon Johnson, was expanded by President Ronald Reagan in 1988, and was enacted into law on August 17, 1988, on the approval of Public Law 100-402.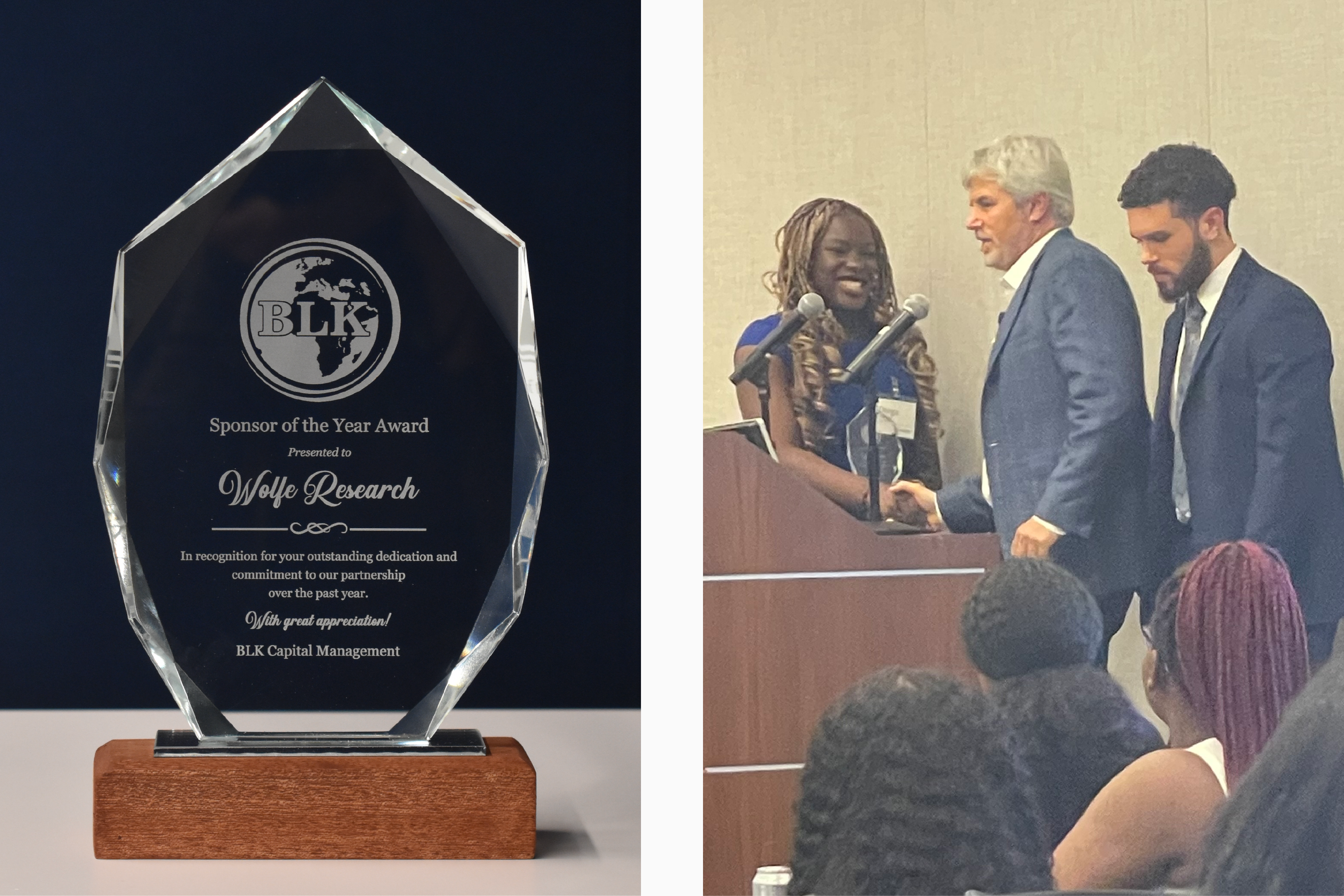 Wolfe Research had a wonderful time participating in the Fall 2022 BLK Capital Management, Corp Conference this past weekend, completed with networking sessions, informative panels, and a final stock pitch competition. We are excited & appreciative to share that Ed received the Sponsor of the Year Award on behalf of Wolfe from BLK Capital President, Zac Elliott, and Vice-President, Otega Amudo. A special thank you to Ronald Song, Media & Telecom Research Associate, for representing Wolfe on the Day in the Life of Equity Research Panel, and to Andrew Rosivach, CFA, Senior REITs Analyst, for judging the final round stock pitch competition. It was a pleasure to meet and network with so many impressive students from BLK, and we look forward to continuing to support this great effort!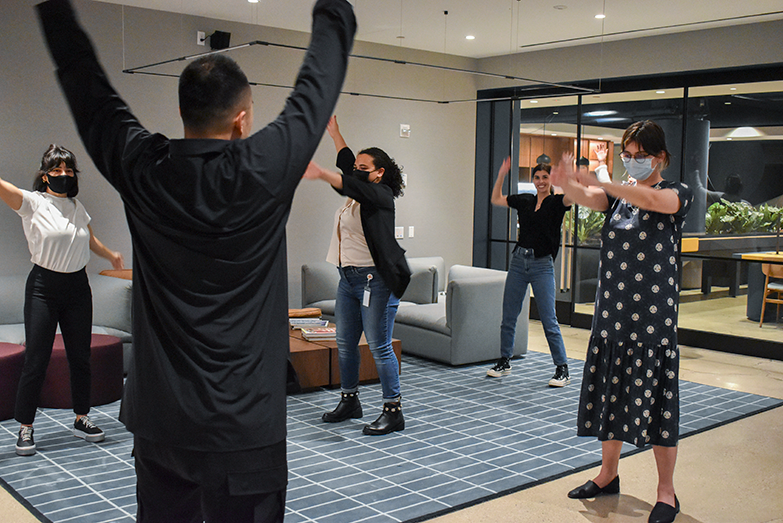 We recently hosted a Tai Chi class led by Raymond Li. Ray is an Investment Banker-turned-Tai Chi teacher who specializes in enriching the lives of New Yorkers with this ancient mind-body practice, frequently leading tailored classes for organizations and special events. This is a low-intensity exercise and will not require changing out of your work attire (unless you would like to of course).This Tai Chi class combines the two themes of May by practicing an ancient Chinese exercise intended to tackle health issues, encourage healthy body alignment, and im-prove mindfulness of employees. Tai Chi utilizes breathing, visualizations and move-ments to work the entire body all at once. As The Tai Chi Classics say "If one part of the body moves, the entire body moves". Tai Chi Chuan was created by applying the concept of Tai Chi to very natural movements using relaxation and breathing to gen-erate health, longevity and internal strength and power. The philosophy of Tai Chi is simple yet profound, in short, the idea that everything consists of two opposing forces that harmonize with each other to create a whole.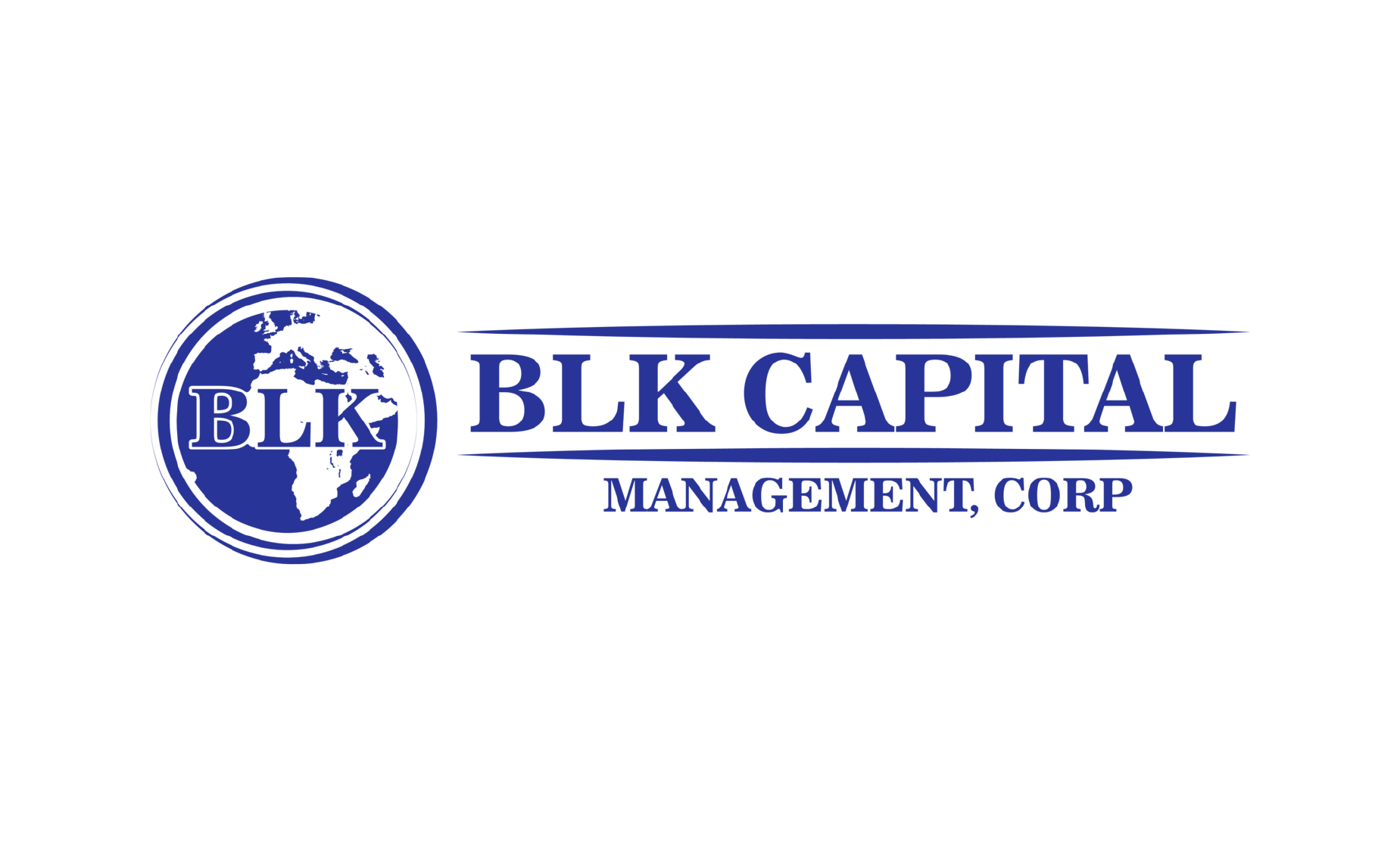 BLK Capital Management, Corp is a 100% black-owned and student run nonprofit that focuses on educating its members by exposing them to the field of active investment management. Wolfe Research and BLK Capital both share a passion for equity research and are each focused on teachingthe craft of stock valuation and investment to a broader and more diverse group of young people, who might not otherwise be exposed to the financial industry. Our founder, Ed Wolfe, did not learn about equity research until he was in his late 20's and our goal, similar to BLK's, is to introduce as many people to the finance industry as early as possible. Wolfe supports BLK Capital, its people and mission on an on-going basis through education, resources and mentorship.
Visit BLK Capital Management
In May, the D&I Mentoring Sub-Committee hosted "What Makes a Wolfe?" office hours with the Institutional Sales Team. Jenny Schrenker (Associate), Christian Pickett (Managing Director), and Anthony Blasi (Vice President) discussed time management, networking, relationship building, communication, and how to succeed as an equity sales person at Wolfe while answering audience questions.The Mentoring Sub-Committee hosts "What Makes a Wolfe?" events with each department at least once a year.
In May, the D&I Education Sub-Committee sponsored a "Disability 101" presentation by Nick Sophinos on behalf of RespectAbility. Nick discussed their experiences working in a fast paced industry as a non-binary person with a disability and how Wolfe can support employees with different backgrounds to create a more accessible and equitable workplace.RespectAbility is a diverse, disability-led nonprofit that works to create systemic change in how society views and values people with disabilities, and that advances policies and practices that empower people with disabilities to have a better future.
Visit RespectAbility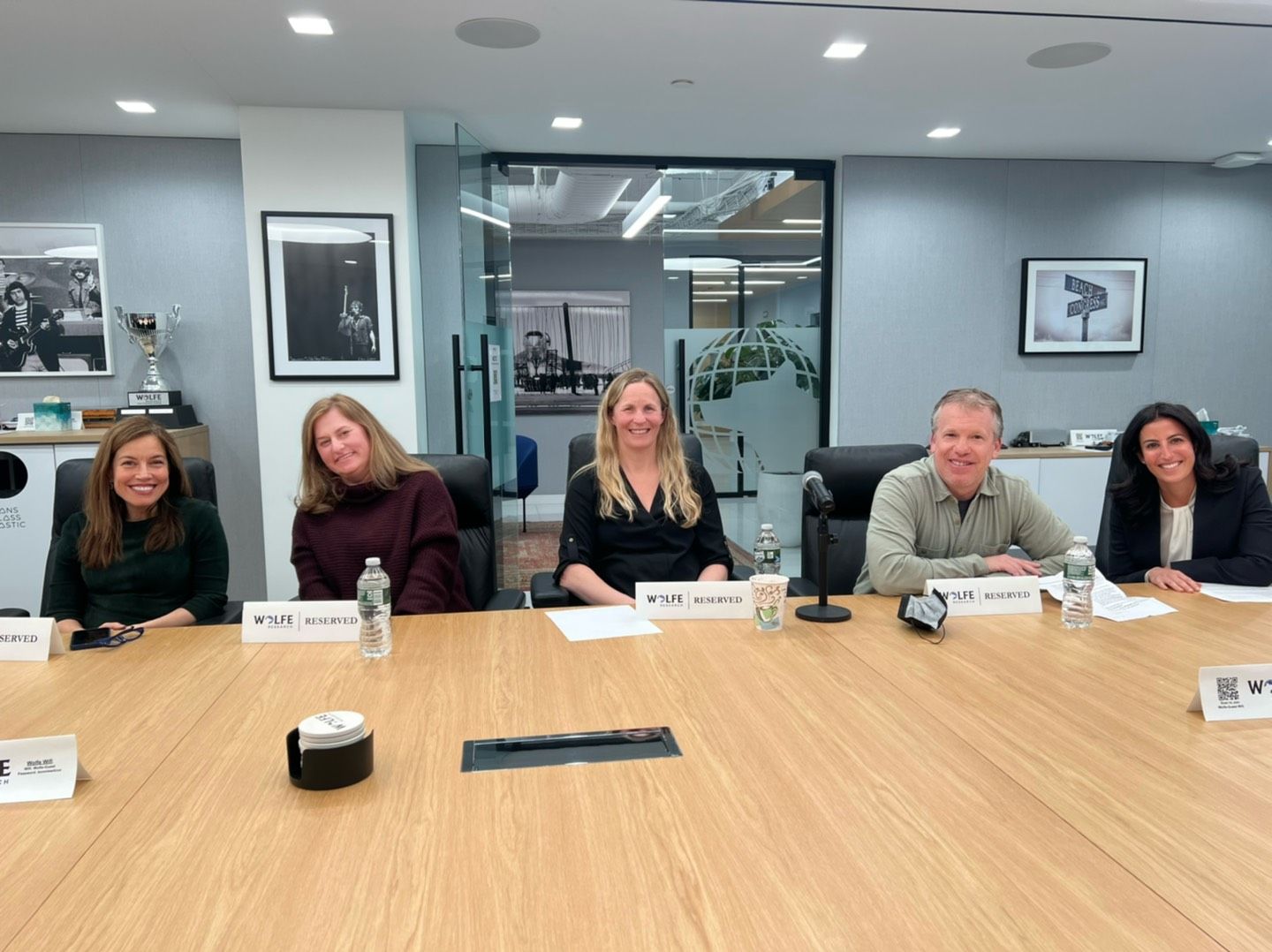 In celebration of Women's History Month, we hosted a "Women of Wolfe" Panel in March, spotlighting our Chief Operating Officer – Kimberly Williams Manis, MBA, Head of QES Risk Solutions – Hallie Martin Arias, General Counsel – Sandra Pallante, and Senior Research Analyst – Timna Tanners, moderated by Bill Weber – Head of NY Sales & Dina Blumenfeld – Head of Human Resources. We are thankful for the leadership, mentorship, and example each of these individuals provide to Wolfe and the Financial Service industry.
LEADERSHIP COMMITTEE
The Wolfe D&I Leadership Subcommittee is an elected group tasked with coordinating the execution of all firm-wide D&I initiatives, including support and guidance for the other D&I Subcommittees. The Leadership Subcommittee members represent a variety of departments and title levels across the firm, but all share a similar passion for Diversity and Inclusion and the desire to support the firm in fulfilling its D&I mission.
Members: Dina Blumenfeld | Kaitlyn Dalrymple | Carly Luck  | Alexia Morgan | Sandra Pallante | Kris Talluto | Analynn Salvato | Ed Wolfe
Members: Dina Blumenfeld | Kaitlyn Dalrymple | Carly Luck  | Alexia Morgan | Sandra Pallante | Kris Talluto | Analynn Salvato | Ed Wolfe
EDUCATION SUBCOMMITTEE
The Wolfe D&I Education Subcommittee works with all departments to coordinate guest speakers, workshops, and employee programs to promote diversity, inclusion, and equity in the workplace. The Education Subcommittee aims to promote critical evaluation of Wolfe's culture and thoughtful discussion about the steps that may be taken to increase equity and inclusion at the firm, in the industry, and in every Wolves' personal lives.
For more information contact
diversityeducation@wolferesearch.com
HIRING SUBCOMMITTEE
The Wolfe D&I Hiring Subcommittee focuses on accommodating diverse talent through a wide range of strategies including but not limited to: hosting educational speaker sessions for students, partnering with diverse organizations, ensuring that the hiring process is fair & unbiased, and proactively engaging those who are underrepresented in the financial services industry to promote interest in Wolfe and the Equity Research industry.
For more information contact
diversityhiring@wolferesearch.com
STANDARDS SUBCOMMITTEE
The Wolfe D&I Standards Subcommittee supports the firm's mission of being a diverse, equitable, and inclusive place to work. This is accomplished through data analysis, strategic planning, and internal reporting and accountability. The Standards Subcommittee partners with the other D&I Subcommittees on broader initiatives to provide guidance and structure through ongoing projects, events, and goal management.
For more information contact
diversitystandards@wolferesearch.com
MENTORING SUBCOMMITTEE
The Wolfe D&I Mentoring Subcommittee works to create a diverse and inclusive environment within the firm for the purposes of providing all individual Wolves with connections to a support system, designed to improve the individual's experience and provide pathways for professional development within Wolfe Research.
For more information contact
diversitymentoring@wolferesearch.com
Student Speaker Series
In 2020, Wolfe Research's Diversity & Inclusion Committee began hosting virtual monthly events for university students interested in learning more about equity research and the financial services industry. Our goal is to try to educate young people from diverse backgrounds, including historically women and black colleges and universities, as well as more liberal arts focused institutions (rather than just those traditionally more business related exposed schools) about finance, investing and particularly equity research.
This experience and all information discussed is being provided for informational and educational purposes only and should not be considered or inferred as personalized investment advice and is not intended to be, nor shall constitute, an offer to sell or solicit any offer to buy any security.
This experience and all information discussed is being provided for informational and educational purposes only and should not be considered or inferred as personalized investment advice and is not intended to be, nor shall constitute, an offer to sell or solicit any offer to buy any security.