RIA/Family Office Products
Wolfe Research has provided best-in-class fundamental and macro research to institutional investors since 2008. Wolfe Daily Howl, our RIA/Family Office specific product, leverages world class stock specific research while tying in important macro themes that focus on tactical and long-term investment themes for individual investors.
Our analysts have a combined experience of over 100+ years on Wall Street, providing best-in-class research to clients around the globe. Our Technical Analysis and Portfolio Strategy teams' ability to analyze economic trends, market events, and the investment cycle in order to develop forward-looking buy/sell recommendations for the U.S. and global equity markets separate us from our competitors. In addition to our broad overview of market conditions, our analysts provide in depth analysis at the stock level by identifying key changes in corporate balance sheets, fundamentals, and trends within the price movement of each security.
The WOLFE DAILY HOWL newsletter is a product of Wolfe Research, LLC. Authors of this product are registered with our affiliate, Wolfe Research Securities (a FINRA regulated broker-dealer), but subscribers to the newsletter are not to be considered customers of the broker-dealer
Our Products & Recent Highlights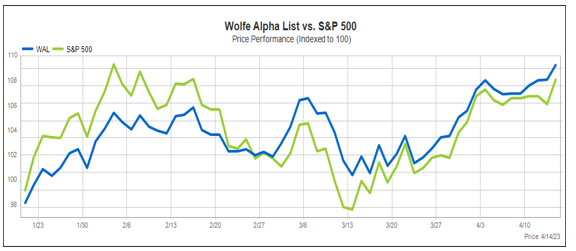 Chris Virelli, Wolfe's Head of RIA Sales, distributes a daily note titled The Wolfe Daily Howl every morning highlighting important macro research and upcoming events.
Interested in viewing a full sample? Click Here.
Stephanie Roth
Stephanie Roth joined in November as Wolfe's Chief Economist. Stephanie comes from J.P Morgan Private Bank, where she was a Senior Economist for Global Wealth Management, responsible for US macroeconomic calls which were communicated to thousands of investment advisers globally. Prior to J.P. Morgan, Stephanie worked at Cornerstone Macro for five years on the highly ranked global economics team under Nancy Lazar, focusing mostly on the U.S. and China. Stephanie graduated from Bucknell University with a B.S. in Mathematics and Economics and holds a Masters in Statistics from Columbia University.
Tobin Marcus
Tobin Marcus joined Wolfe in September of 2023 as Head of Policy & Politics. Tobin is a highly ranked Washington Research analyst by clients as reflected in the Institutional Investor Magazine All-America Research Poll, with over 15 years of experience in policy analysis, development, and strategy. Tobin joins Wolfe from Evercore ISI, where he was Managing Director and Head of US Policy and Politics. Prior to Evercore, Tobin served for five years in the Obama-Biden administration as then-Vice President Biden's economic policy advisor.
Chris Senyek
Chris Senyek joined Wolfe Research in 2011 and is the firm's Chief Investment Strategist. In this role, he publishes fundamental macroeconomic research on the markets, portfolio positioning, and stock themes in three areas: equity strategy, accounting/tax policy, and special situations. Over the years, Chris has been consistently ranked #1 by Institutional Investor magazine in macroeconomic research (accounting and tax policy), and in 2020 he entered Institutional Investor's Hall of Fame for earning a #1 ranking ten times or more. Previously, he was employed at ISI Evercore, Bear Stearns, and Arthur Andersen.